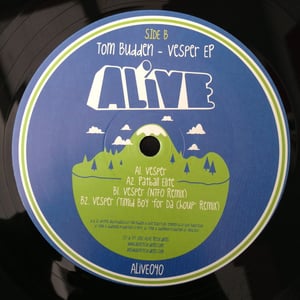 £

6.99
Limited 12" Vinyl copies of our 40th release from label boss, Tom Budden.
Featuring 2 original tracks - 'Vesper' (plays from Catz N Dogz, Luca Bacchetti & John Digweed) - and 'Patball Elite' (featured heavily in Richie Hawtin's sets). 2 Remixes on the EP from NTFO (Diynamic) and Timid Boy (Time Has Changed).
ALiVE label boss Tom Budden steps up to the plate once more with a tight 4 tracker of deeply delicious beats. Main track 'Vesper' opens the ep with an energetic main room ride, an oscillating synth and infectious bass stabs ratcheting up the tension throughout. As a nice juxtaposition, 'Patball Elite' saunters along on a smooth b-line, snippets of female vocals injecting it with a real sense of groove - a much deeper feel but a nonetheless powerful tool. Two distinctly different remixes of 'Vepser' follow - NTFO (fresh off the back of their last ep that's currently riding high in the deep house charts) take things to a noticeably moodier place with classic sounding synth work giving their interpretation a real sense of drama whilst Timid Boy (Time Has Changed) focuses on the piano stabs of the original, making them a main feature to lend a more anthemic feel to the package.