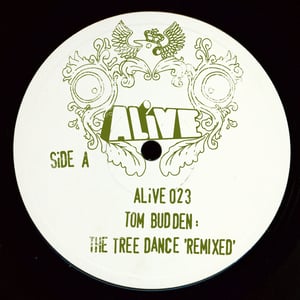 £

5.00 - On Sale
Limited 12" Vinyl Copies Available of ALiVE023
Tom Budden - The Tree Dance 'Remixed'
feat: Acumen, Milton Jackson Remixes & Tom Budden 2010 Re-Edit.
For the next release on ALiVE we are re-visiting one of our biggest tracks of last year, Tom Budden's 'The Tree Dance'.
We've drafted in two of our favourite producers to provide some fresh remixes:
First up, adding a touch of French class to the package is Time Has Changed Records boss, Acumen who has recently released on labels such as Area Remote, ViVa and Bla Bla among others.
Secondly we have the Glaswegian deep house don.. Milton Jackson. Although this is maybe not what you'd expect from the man who appears on labels like Freerange and Dark Energy, as to quote Mr Jackson himself, he has "whipped out the big guns!".
As a little bonus, Tom has turned in a new re-edit with a new arrangement and some subtle tweaks for 2010.